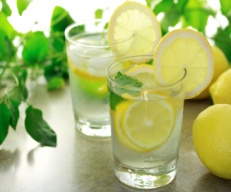 Decrease wrinkles and blemishes (சுருக்கங்களை குறைக்க உதவுகிறது)
Flush out unwanted materials
Reduce respiratory problems (சுவாச பிரச்சனைகளை குறைக்க உதவுகிறது)
Reduces fever (காய்ச்சலைக் குறைக்கிறது)
Boost your immune system (உங்கள் நோய் எதிர்ப்பு அமைப்பு அதிகரிக்கும்)
Cure throat infections (தொண்டை தொற்று நோயை குணப்படுத்துதல்)
Excellent for weight loss
Relieve throat pain
Blood purifies
Balance PH
Food is Fun… Enjoy your food.
Breakfast is a very important meal.
Eat lots of different foods every day, variety is the recipe for health.
Which group would you tip for the top? Base your food on carbohydrates.
Gimme five! Eat fruits and vegetables with each meal and as tasty snacks!.
Fat facts. Too much fat is not good for your health.
Snack attack! Eat regularly and choose a variety of snacks.
Quench your thirst. Drink plenty of liquids.
Care for those teeth! Brush your teeth at least twice a day.
Get moving! Be active every day.